Casey Tanner
Bold Branding for a Bold Voice in Queer Sex Therapy
The Challenge
Casey Tanner (she/they) is a queer sex activist, influencer, therapist, and speaker. They approached Firebelly in 2021, at a pivotal moment in their evolution and after a pandemic full of change. While recently building a brand new therapy practice on the heels of a newly flourishing social following, Casey launched their own personal brand that could encapsulate the radical thought leadership she brings to gender and sex therapy.
Our Approach
To connect audiences with the distinct offerings of Casey's three brands: Casey Tanner, The Expansive Group, and Queer Sex Therapy, we developed a multi-layered brand strategy and identity system complete with two websites organized within a unified CMS. To begin, we grounded ourselves in the needs and wants of Casey's cumulative audiences finding that bolstering the brand family meant fully celebrating their mentality of radical change.
Queer Sex Therapy
We began by asking: ​"What is Queer Typography" and how might a brand authentically serve queer voices and queer love? After surveys and secondary research we created a brand strategy that elevates diverse identities and demonstrate powerful queer voices, especially on the Queer Sex Therapy social platform.
A broad and vibrant color palette varies in use across all 3 brands. Queer Sex Therapy employs all saturated tones to their fullest potential and rightfully, does not hold back to express their power. The type system utilizes complimentary flavors that speak at varying volumes — Queer Sex Therapy can be both strong and fluid.
Casey Tanner
A deliberate, clear, and succinct structure became the essence of Casey's leadership brand. Alongside the identity, we orchestrated a website that could grow to encompass the therapist/speaker/consultant's current and future initiatives.
"Firebelly offered language beyond the verbal, inviting me to use images, colors and shapes to tell my story. I felt I was able to get out of my head and into my creative ​"gut", and to value thinking outside of what is linear or logical."

— Casey Tanner
Beyond honoring Casey's role as a queer thought leader, the website also connects their presence across the internet and her range of services. Casey​-Tan​ner​.com is both an archive for media partnerships and the interface for speaking engagements, mentorship, and her new podcast.
Comprehensive Brand Guide
To ensure easy access for our tools and templates, we developed a consolidated and thorough CMS that allowed for streamlined updates to either the Casey Tanner or Expansive Group websites. A single comprehensive guidebook then demonstrates how each brand flexes and adjusts for its audience through both voice and tone.

The Expansive Group
Casey's professional therapy practice evokes different qualities from the same brand toolkit. Both the color palette and type become more serene in their use while still drawing from the same system. Beginning with a monogram logo, we draw the T‑E-G within a circular shape, encompassing and inclusive. The mark's rotation demonstrates varying viewpoints that come to the table.
A fresh, single-scroll website guides users to engage and enroll in therapy services. Complete with a comprehensive team search, the site allows users to seek coaches or therapists that align with their needs and identities. The refined CMS structure and brand guidelines streamline The Expansive Group's process when updating content, freeing their full attention for practicing radically-inclusive sex therapy and trauma-informed care.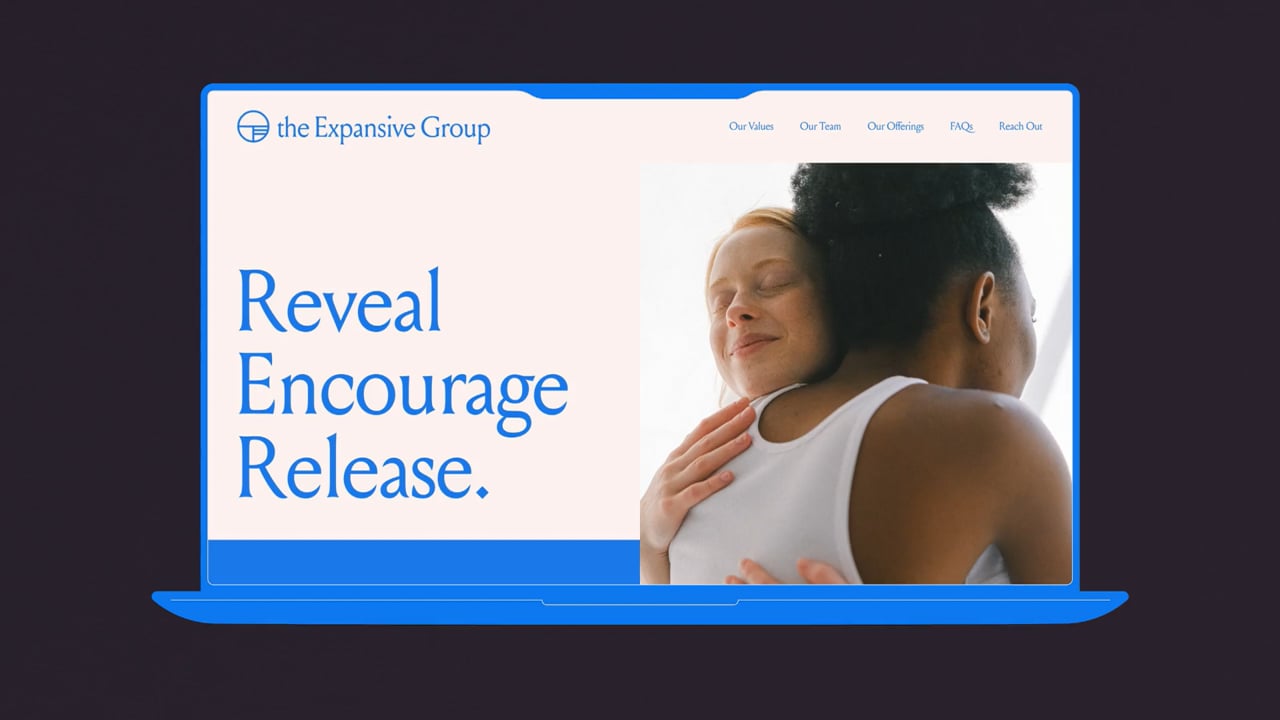 "Firebelly managed to create a brand ecosystem that captured the shared values and energy of not only the company, but the team; a unique group of disruptors who think differently now have a group of platforms that stand out from others in our field."

— Casey Tanner
Casey's entire visual system has already proven instrumental for their new endeavors. The @QueerSexTherapy Instagram has now rocketed up to 244k followers and counting while their personal brand has become a stage for the new podcast and her upcoming book. With a new and rapidly expanding team at The Expansive Group backing her efforts, we know there is much more to learn and hear from Casey Tanner.
Visit The Expansive Group Website
Visit Queer Sex Therapy Instagram